Welcome to the City of Margaret, Alabama
The City of Margaret welcomes you as a resident or prospective resident in our community.  People love Margaret because of its small town vibe while still being so convenient to larger municipalities with plenty of amenities to enjoy.  We are a bedroom community and part of one of the fastest growing counties in the state of Alabama, continuing to adapt to serve your needs. Take a closer look at Margaret, Alabama to see what people are talking about.
Our History
Margaret began as a mining community and its history dates back to 1905 with the establishment of the Margaret Mines, No. 1 and No. 2 by a Col. Henry F. DeBardeleben. DeBardeleben was led to St. Clair County and Shelby County with his ventures into the coal and iron industry.  He also developed the Acton Mines No. 1 and No. 2. The Margaret community continued to evolve after the close of the mines in 1950 and the Town of Margaret was incorporated in 1959.  The first Mayor was elected, F. B. Carroll.
Why People Love Margaret
There are a number of reasons why people love Margaret:
Country Living at its best
Ability to live out, but close to entertainment districts
Easy access to Interstates I-20 and I-59
We're middle city USA
We're a bedroom community
Margaret is Located in 3 Zip Codes
The City of Margaret is located in three zip codes - Odenville 35120, Moody 35004 and Margaret 35112.
Margaret Schools Depend Upon Resident's Address
Margaret has an elementary school; then, City of Margaret residents' children attend one of three different schools.  Depending upon home address, children will attend Springville, Odenville or Moody schools which are all part of the St. Clair County School system.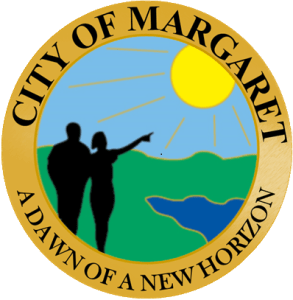 Margaret City Hall
825 Woodland Circle • Odenville, AL 35120
Phone: (205) 629-5501 • Monday – Friday, 8:00 am – 4:00 pm
Looking Toward the future