Margaret's Boom Town Days
Margaret's Boom Town Days
Motorists passing through Margaret, Alabama, on County Road 12 are usually unaware that it was once the busiest, most densely populated community in St Clair County. Today it's no longer that bustling industry town of the early 1900s, but rather a quiet little settlement whose vibrant history must be learned from books and old-timers.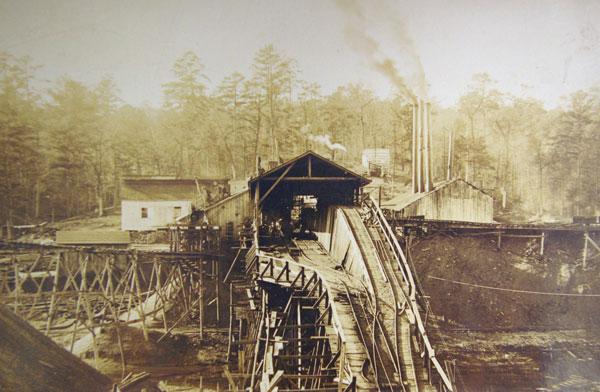 In History of St. Clair County (Alabama), Mattie Lou Teague Crow speaks of the town's birth in 1908. Founded by mineral magnate Charles DeBardeleben, a Welshman, it was named for his wife, Margaret.
The new town eventually had it all. Alabama Fuel & Iron Company provided employee housing, churches, parks, company stores, a movie theater, schools, community recreation venues, medical facilities; in short, almost everything a working man needed for his family.
In a 1974 St. Clair News-Aegis story, Jenna Whitehead relates that houses were rented to miners for $6.90 per month including water and electricity, which was deducted from their pay along with 75 cents for miners' use of the bath house.
During the Depression, most employees only worked a day or two per week. To help make ends meet, the company provided utensils, supplies and mules for making home gardens. Small livestock and seed were furnished at cost. If a man chose not make a garden, he was laid off from work.
In The Daily Home, June 1990 issue, Marie Cromer relates that AF&I hired C.C. Garrison, a Clemson-trained agronomist, to landscape company properties and teach the miners how to make a proper garden and tend their yards. Garrison later became the superintendent of education.
Miners were paid in cash. However, most were indebted for their entire paychecks, and often more, to the company store (shades of Tennessee Ernie's song, "Sixteen Tons"). These stores, called commissaries, extended credit as well as token money stamped with the company's logo, called "scrip."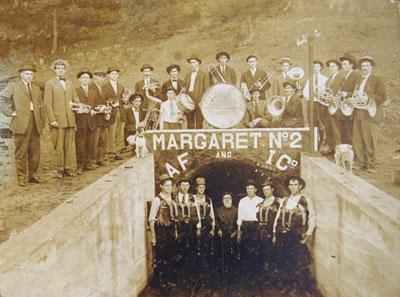 Also known as clackers because of the noise they made when clicked together, scrip was good only at the commissary, but could be borrowed on demand or exchanged for regular currency at the rate of 75 to 80 cents on the dollar.
Marie Butler, a Margaret native, former town clerk and wife of Mayor Billy Butler, reminisces in her book, Margaret, Al — And Now There's Gold:
"Ah, the company store! Imagine yourself in a one-stop shopping store and then envision yourself inside the company's commissary, which was operated by Charlie Boteler. A glance down the aisles reveals shelf after shelf of only top quality products. Name-brand clothing was all that could be found here. … Practically everything a family might need could be bought at the company store and, of course, purchases could be made with clacker.
"The high steps that led to the entrance of this huge rock building were the setting for many games, as children waited outside for parents to gather up the family's necessities. Many times, some of the youngsters would wait around to see the old steam engine chug into town with several carloads of dry goods, etc, for the company store."
Next door to the commissary, which has since burned down, was a large icehouse that also served as a post office. It can be seen, now vacant and boarded up, on County Road 12 across from the present US Post Office. Margaret had a number of rooming homes for single men and visitors, among them actor Pat Buttram, who later played Gene Autry's movie sidekick, Pat, and Mr. Haney on TV's "Green Acres."
AF&I was always supportive of its employees' cultural and leisure activity needs. Margaret boasted a man-made lake, bandstands complete with company band, social occasions like plays, carnivals, square dances, wrestling matches, road shows, musicals, etc, all provided by the company to inspire contentment, loyalty and productivity.
Nor was faith neglected. According to Butler, practically every family attended church. The company erected places of worship for all their people, including a community church with an upstairs grammar school for the St. Phillip Methodist and Beulah Baptist black congregations, with electric lights on wooded paths leading to the church. The two factions shared this facility on alternate Sundays, and held a combined service with dinner on the grounds in every month with a fifth Sunday. It's said these gatherings were the high points of their social lives.
The company-built Methodist church became today's Margaret Church of Christ, a neat little white chapel on County Road 12 near the town park. A pianist at this old church, Lou Betts, later married U.S. Congressman Tom Bevill.
By 1935, Margaret was the largest coal-producing area in the state of Alabama, and the only one that generated its own electric power. More than 4,000 acres of company land was under cultivation as family gardens. Butler remembers Margaret as a town of flowers, particularly buttercups and ornamental hedges.
DeBardeleben sponsored a Quarter-Century Club to honor longtime workers, its 81 charter members each receiving a gold pin and $5 a month extra pay, which almost covered the rent on their homes.
Butler tells that, during the Depression, the company mined and gave away some 4,000 tons of coal to people in several states who could not afford it for home use. When Birmingham had no coal on a Christmas Eve because all the union mines were on strike, DeBardeleben again put his people to work, assuring them the coal they dug would only be used to heat homes. A turkey was offered as a prize for the man who dug the most coal; it was won by "Smokey" Turner, who had loaded 26 mine cars.
Since they provided so well for their workers, the company insisted that all their operations remain non-union. While most AF&I workers readily accepted this policy, the unions never stopped trying to insert themselves into St. Clair's labor structure. News accounts from 1935 and 1936 say union forces more than a thousand strong began harassing St. Clair's various mining camps, resulting in a multitude of injuries, acts of destruction and, eventually, one death. The company and workers resisted this intrusion, but the disputes finally culminated in what's been called The Battle Of White's Chapel.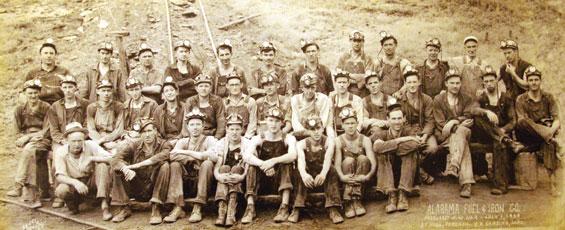 A union-funded, 75-car motor caravan was confronted by a tiny cadre of 15 armed company men and deputies entrenched on a hilltop in White's Chapel. Things came to a boil, and a union man was killed in the ensuing gun battle. Some 50 AF&I and union men were indicted on murder and conspiracy charges, including Charles DeBardeleben himself, but all were eventually acquitted in a series of very expensive trials.
Margaret and the Alabama Fuel & Iron Company had lived a vigorous, useful life of nearly five decades before its mines finally closed in the early 1950s. From the beginning, Margaret had embraced anyone who wanted to work. Among its earliest citizens were Italian, black and various Slavic people, many of whom did not speak English.
The town officially incorporated 840 acres in 1959, and held its first municipal election in 1960. Many original residents, mostly at rest now, had chosen to live their entire lives there. Margaret had proven to be a bounteous, embracing home over the years, so they saw no reason to leave.
One of Margaret's greatest events was a visit by Bishop Fulton J. Sheen, who had a popular weekly 1950s TV show called "Life Is Worth Living." He'd been invited by a highly optimistic local lady, and surprised everyone by actually coming to Margaret, where he delivered a fine homily to a huge crowd in the town park.
According to A.B. Crane, in a talk given to the St. Clair Historical Society in 1994, "… He spoke with the same interest, same detail, the same thoughtfulness, the same expression that he would have used if there had been five or ten thousand people there."
Margaret was all about its people, the mines, and Mr. DeBardeleben's Golden Rule. Today it's perhaps best visited in the mind's eye. Visualize the lifestyles of thousands of hard-working people who once lived and toiled there, their weekend activities in the town's park, picture show, churches, company store and the mines with their back-breaking labor and high mortality rate, which everyone simply took for granted in those days.
Beulah Baptist now stands forlorn, abandoned and in severe disrepair, surrounded by a high fence and foliage so dense you can't see the church except in winter. An occasional company home with its characteristic pyramidal roof can be seen along the road to Macedonia Baptist Church. The town park has a nice little gazebo built atop an old concrete platform from decades past. Little mementos are everywhere, but you have to look for them.
A look back at the rich history reveals that when St. Clair and America's needs were greatest, Margaret did her share.
Story and photos by Jerry C. Smith.  Contributed photos courtesy of Marie Butler and Margaret Town Hall. This story was originally published in Discover The Essence of St. Clair Magazine on April 12, 2012.